We've been hard at work on a whole collection of improvements to Dynah. We've been been rolling them out over the last few weeks. Telling you all about each of them in this post would make for a much longer post than normal. So I'll going to give you a short overview today. Look forward to a deep dive into each of these improvements over the next few issues.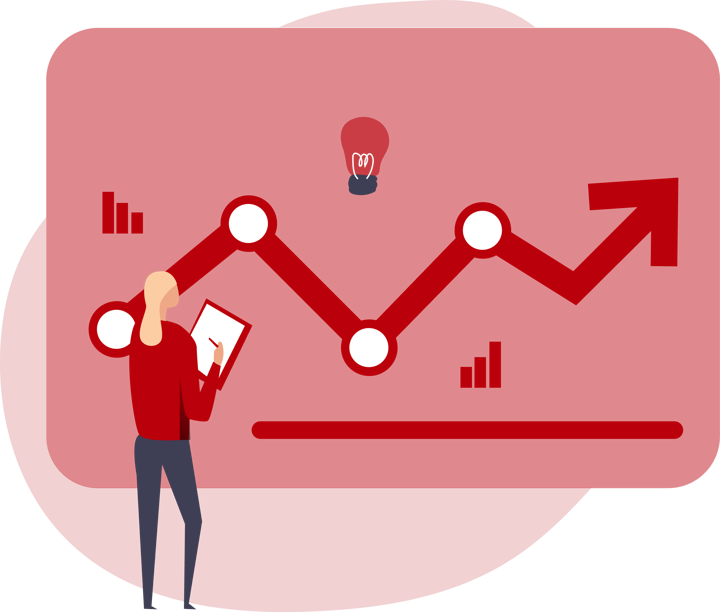 The most noticeable improvement is an updated design across the whole application. The dashboard is beautiful with crisp high-contrast colors in both light and dark mode. Our graphs pop, summarizing the info you want at a glance without being overwhelming. Across Dynah, we've tightened up fonts, colors, and spacing. We stay true the familiar feel with a smooth new æsthetic which is easy on the eyes.
But this design update isn't just good-looking. We've re-organized the way we render information on the dashboard. We've heard clear feedback about the core progress graph. That mostly-empty graph you see at first isn't very useful — and can be discouraging. So we changed the core donut graph to show only the questions you've answered. Now you have a clearer impression of your performance relative to baseline.
You also want to see where you're headed. We've added two new components to the dashboard. We hope these help you stay on track and make consistent concrete progress. Consistent small improvements turn cybersecurity from a fire-drill into an ordinary part of work. Our progress indicator gives you a broad preview of whether your progress is on track. If you're seeing a lot of noncompliant answers, you might have more work ahead. Reach out to your managed service provider sooner rather than later. Alternatively, if you're on track, you can probably stick to your current schedule.
We're excited about the tips section. These predictions highlight the most important security interventions for you. They use your answers to identify low-hanging fruit. That this is particularly valuable for our managed service provider clients. These concrete evidence-based recommendations are opportunities to reach out to your clients. You have clear reasons to offer specific improvements and good news about how you can help
We've made it much easier to see your customers' progress all at once. Our new client overview shows the core progress donuts for all your customers on a single page. Click on any customer's card to deep dive into their fully dashboard. And we added a little tweak. We now combine overall progress with relative performance in the same graphic. The ring's thickness represents how many questions the organization has answered. Over time, the donut rings organically grow towards solid circles..
All this dashboard improvement has stressed our back-end database. Loading all this data at once takes a lot of queries — especially from multiple customers. We want to keep the dashboard snappy, regardless of how much information we're rendering for you. We've added a caching layer to help out, but there's a lot more to do here. We're working on more thorough database optimizations. Our goal: performance scales seamlessly with our ambitious data visualizations.
We rolled out the Critical Security Controls framework from the Center for Internet Security (CIS Controls) alongside the Cybersecurity Framework for Small & Medium Business from the National Institute of Standards and Technology (NIST CSF SMB). This is the sort of change which shows the real power of Dynah. You don't need to answer a whole bunch of more questions to get your CIS score because we intelligently cross-reference your answers. Today, that's twice as many frameworks! If we keep adding frameworks at this rate, then by Q2, we'll have hundreds 😉. But extra frameworks don't mean more work for your team, because of our smart knowledge architecture.
We know how much everyone loves passwords. Not at all. Not at all is how much everyone loves passwords. So we got rid of them. No more passwords. Right now, that means you'll sign in to Dynah using a magic link sent to your email. We're also very excited to add more modern authentication in the form of Passkeys. Get ready to sign into Dynah using the existing security features on your devices, security keys, or password-managers. It's hard to express how excited we are about getting rid of passwords.
---
Tarah has also been burning the candle at both ends, making sure that the security advice you get out in the wide world is useful, actionable, and practical. Here she is in the Washington Post.
---
If you'd rather receive these posts in your inbox, you can also subscribe these posts as a newsletter, or via RSS.